Vehicle Wrapping and Tinting
Frequently Asked Questions
There's so much information about vehicle wrapping and window tinting that it can be hard to find what you need. Here's our most frequently asked questions – we hope it helps! If we haven't answered your question, feel free to get in touch with our customer service team! You can find our contact details here.
What is vehicle wrapping?
Vinyl Wrapping is the freshest and most exciting thing to hit the vehicle customising world in years. A vinyl wrap is applied by hand onto the painted surface of a vehicle. You can do this wrapping in pretty much any colour or finish, including wraps that change colour when the light hits.
Vinyl wraps are essentially a large, very high-quality sticker that's applied with heat – and it can completely change the look of your vehicle.
Nowadays, you can even install the vinyl wrap on other vehicles, like boats and trailers. With the new 3M Di-Noc range, you can even wrap interior walls and surfaces.
How long does it take to wrap a vehicle?
We usually ask for your vehicle for five to ten days to complete the work. However, this time varies depending on the size of your vehicle, with commercial vans taking longer. This time includes:
Stripping the vehicle to wrap it;
Bodywork clean and prep;
Using bespoke products to remove any remaining dirt and grease from the paintwork;
The wrap itself.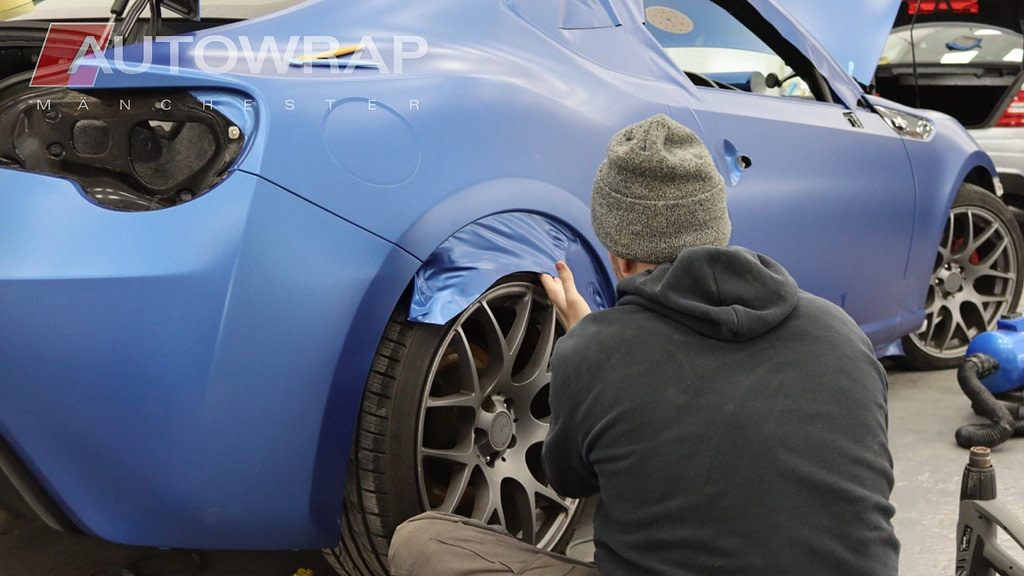 How long does vinyl wrap last?
Vinyl wrap will typically last around seven years, depending on the material used and the conditions in which the car is cleaned, stored and driven. Keeping the car clean is the most crucial factor in the longevity of wrap! With good aftercare, a vinyl wrap will last you a long time.
What is the best brand to use for vehicle wrapping and tinting?
We use a variety of top quality brands, like 3M, Suntek, Avery and Oracal. All of the above are considered leading market brands worldwide. They all have their pros and cons, along with vast ranges of colours, so have a chat with our sales team if you want any more information to help you decide.
Do you wrap the inside of the car?
We certainly can! We can do the inside of the doors and the back of them on request, so they match your outer wrap. There are additional charges for that, and it will obviously up the labour time of your wrap. For more specific information, please talk to our sales team!
How do you clean a vehicle wrap?
We'd always recommend hand washing it yourself with warm soapy water, once you've had a wrap. If you use a jet wash, then please take EXTRA care around the edges and keep a safe distance from the vinyl. If you want more information before you wrap, please ask for one of our aftercare leaflets to take home with you!
Can a vehicle wrap be removed safely?
A wrap can be removed safely without causing any damage, but there are a few factors to look out for when assessing your paintwork before a wrap:
Previous repairs not done to manufacture standard;
Lacquer peel, chips or flaking on the paintwork below;
After-market paint jobs;
If there was rust on the paintwork before the wrap;
If you want to assure your paintwork will remain intact, it is best to make sure it's in top condition before you bring it in.
If you'd eventually like the wrap removed, please book in with us to ensure proper removal.
Can I put my windows down after tinting?
Of course you can! However, we do ask that you don't put your windows down for at least seven days after the tint. This time allows the film to adhere to the window fully. It also ensures any loose, wet edges don't catch on your window seal and ruin the tiny. As a rule, you should avoid touching the inside glass for seven days – including cleaning. After that, you should have no problems!
0161 672 7376
Manchester, M17 1HQ