What's the difference between vehicle signwriting and printed wraps?
Vehicle signwriting covers a range of things, so we'll take you through those.
Sometimes a full printed wrap isn't necessary for your business, or quite what you're looking for. In that case, we have a few options for you.
This page will give you a brief rundown of those options, but if you have any more questions that we haven't answered, then please feel free to contact our customer service team.
You can find that information here.
How does lettering work?
Rather than a printed wrap, where the necessary information is printed onto a sheet for your vehicle, signwriting and lettering means the individual pieces are all separate. They're made out of the same vinyl that is used for full car wraps, so you're able to choose your colour scheme.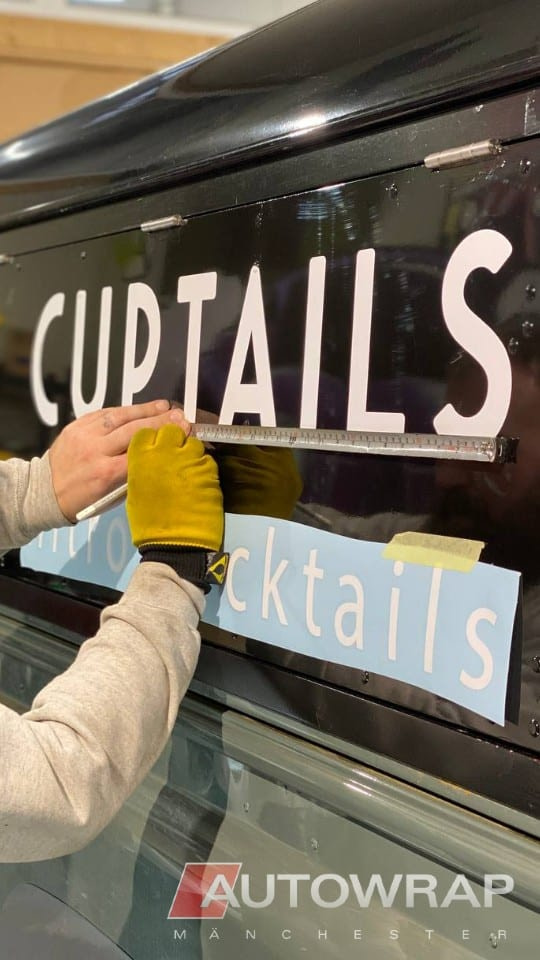 We can apply vinyl lettering directly to either your paintwork or to a vinyl wrap on your vehicle. Both of these options require some simple aftercare to make sure they stay looking right for as long as possible. When you book in, you'll be advised on care. The main thing to remember is that they can't be jet washed, as the pressure can ruin the vinyl.
We use templates to ensure that any lettering, logos, or graphics are straight and accurate, so you don't need to worry about your signage being wonky!
Can I only have text in my signage?
Not at all! We can do a range of graphics, including your logo and additional details. These are applied in the same way, with a template to ensure they're straight. If you're unsure your logo would be appropriate, have a chat with our customer service team who will be able to advise you further.
We also apply bodywork kits, like the one on this Mustang, below.
If you're uncertain about your signage options, then our customer service team will be happy to help.